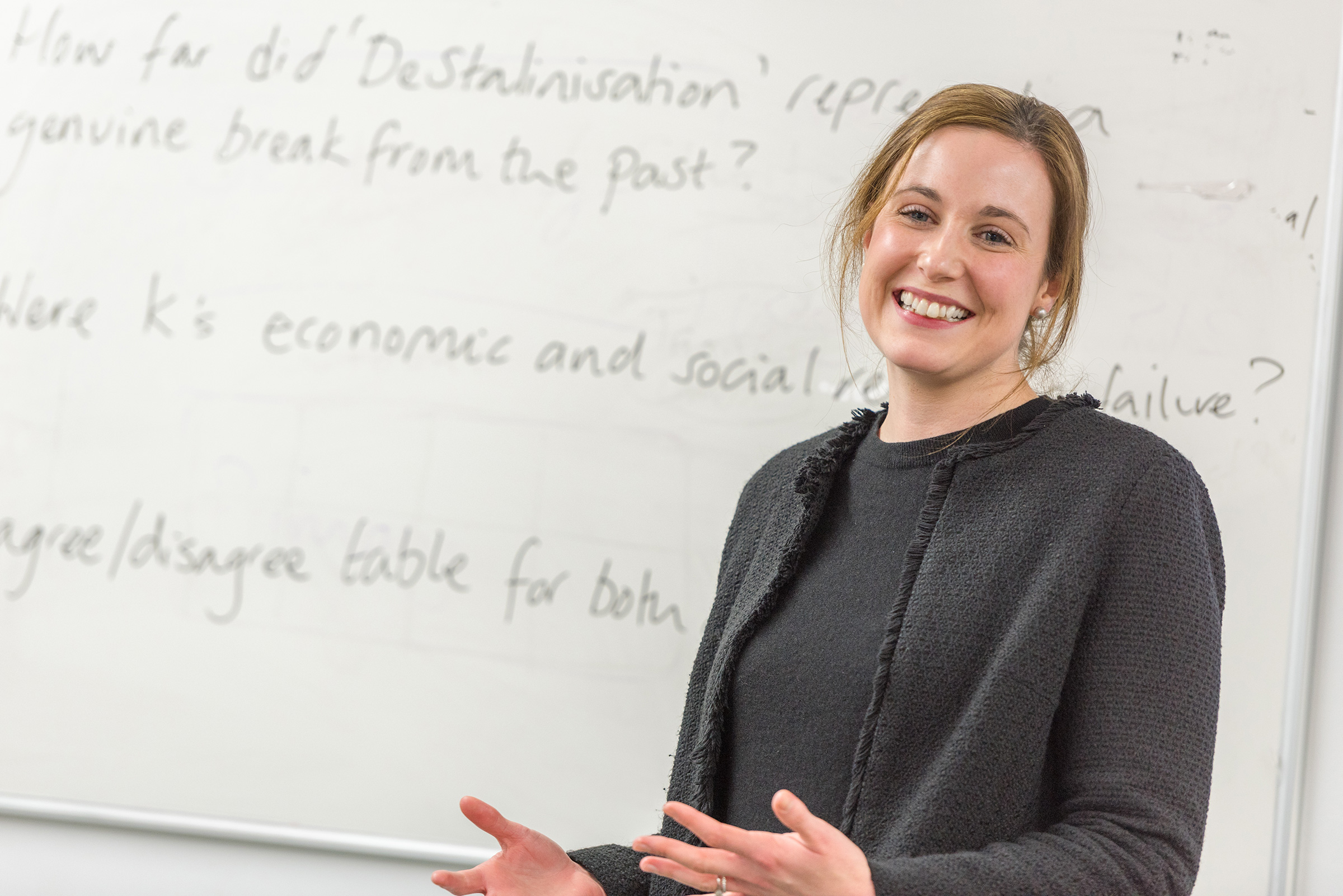 "Working with young people offers variety, interest and fun!"
Dr Kate Kennedy - Acting Head of History, Kingston Grammar School
When I graduated from my undergraduate degree in Modern History at the University of St Andrews, I felt that there was more historical research to explore. Having developed a particular interest in colonial history as an undergraduate, I continued pursuing this research avenue by completing of a Master of Studies in Global and Imperial History at the University of Oxford. This was an exciting time to be working in this particular field at Oxford, with the recent establishment of the Centre for Global History at the university. With a buzz in the History Faculty around global history at the time, I was keen to continue with academic research so I decided to undertake a doctorate on the question of human rights and the end of the British Empire, for which I was awarded funding by the Arts and Humanities Research Council for three years. Whilst I really enjoyed delving into this area of history by visiting many archives, discussing my ideas with other students and academics and attending conferences in Florence and Princeton, it was during this time that my love for teaching was sparked.
In 2011, I joined the History Department at Magdalen College School as an Intern. My responsibilities ranged from running the Oxbridge extension classes to Junior History Club to writing a history blog for the department. It was through working in the department for two afternoons per week, I realised that whilst academic research was fascinating at times, working with young people offered much more variety, interest and fun! Working in research requires patience and can be a very slow process at times, whereas working with students offered immediate impact and a greater sense of achievement more quickly. My Thursday and Friday mornings in the library or archive were very efficient as I looked forward to finishing up my research and starting work at school in the afternoon. The prospect of running a debate in Junior History Club on Richard III was much more appealing than spending more hours in a dusty archive! At the same time as working at MCS, I helped as a teaching assistant for a history further subject for second year undergraduate students on imperialism and nationalism in sub-Saharan Africa. This hands on experience of teaching undergraduates, whilst completing a 'developing teaching and learning' course as part of the Higher Education Academy programme to become an Associate Fellow cemented my focus on pursuing a career in secondary school teaching upon completion of my doctorate.
Having already spent nine years at university, I felt that a traditional PGCE route was not for me (or my bank balance) so I was very interested when I found the advertisement for the post of Trainee Teacher at Kingston Grammar School. Whilst learning on the job can seem like a very daunting prospect, it was in fact a great way to learn particularly when embarking upon a teaching career in my mid-twenties. After two weeks of observing my colleagues teach, I began taking my own lessons gradually building up to a 60% timetable by October half term. Weekly observations and meetings with my mentor ensured that I felt really supported in my new career. It was also reassuring to meet other History PGCE students during October, February and May half term at the University of Buckingham training days where we could share our classroom triumphs and disasters! These courses offered subject specific training, in addition to a huge variety of lectures delivered by a range of leading educators and even Nick Gibb, Minister of State for Schools. As part of the PGCE in order to qualify for QTS, I spent three weeks at an academy in central London. This was a fascinating experience and the skills that I learnt in just three weeks really informed my teaching practice, particularly with regards to behaviour management strategies. Following my PGCE at the University of Buckingham, I stayed at Kingston Grammar School to complete my NQT year. Whilst it had been challenging at times to juggle the demands of the PGCE with resourcing for lessons and getting my head around the requirements of good teaching and learning, my NQT year seemed much more manageable despite my timetable increasing to 90%.
As an NQT, I was able to contribute more to the co-curricular side of school life as I became more comfortable in the classroom. That year I took on the role of Centre Lead for the Young Enterprise programme which was quite a challenge as the competition had changed a great deal since I took part as a student in Edinburgh in 2004! However, it was great to develop this part of school life and contribute to the development of students outside the classroom with skills that will equip them for university and the workplace. I still find it fascinating to observe the interactions of Lower Sixth students at Young Enterprise meetings and compare that to their demeanour in my A Level history lessons! I have also helped with the Oxbridge preparation programme, establishing two thinking skills workshops with local schools to help students feel more prepared for the admissions process. In my fourth year of teaching, a promoted post came earlier than expected when I was appointed Acting Head of History to cover my colleague's maternity leave. Whilst this appeared just as daunting as starting my PGCE in 2015, within a very supportive school environment I have really enjoyed the experience of running a department, managing a trip to Moscow & St Petersburg, and hosting a lecture evening on the history of Europe, amongst many other responsibilities and challenges.
Although it may have taken me until my mid-twenties to embark upon my teaching career whilst many of my undergraduate friends were already well established in their careers, I think that my life before teaching has definitely helped me to develop as a teacher. The well-worn cliché that every day in teaching is different is most definitely true and that is what makes teaching an exciting and challenging career choice. Starting a day teaching Year 8 about the Reformation, continuing on to teach Year 10 about the Treaty of Versailles and finishing by discussing the American Declaration of Independence with Year 12 certainly adds variety and interest to my day, definitely a welcome change from trawling dusty archival documents for that one key quotation!
For more information about teaching careers at HMC schools, visit: www.hmcteachingcareers.org.uk